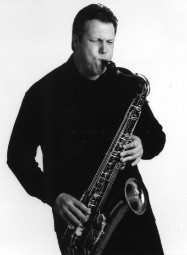 The energy and personality Hal Melia brings to both his teaching and his performing are contagious. Those who have experienced his workshops, classes, and performances never forget the tireless effort and positive aura he exudes in any setting. He is the epitome of the multi-instrumentalist – he plays soprano, alto, tenor and baritone saxophones, flute, piccolo, clarinets (Bb, Eb Soprano, and Bass), and EWI (electronic wind instrument). A consummate professional, Hal is noteworthy as a vocalist and scat singer, and has composed and arranged a body of work for a variety of settings.
Hal spent 1986 through 1991 in Los Angeles recording and arranging with top jazz and R&B groups (Tower of Power Horns, Buddy Rich Band, Billy Vera and the Beaters), and appearing in several major motion pictures (Bugsy, Dick Tracy, The Marrying Man, Mobsters, Parent Trap III, and others). He has also recorded with artists on several labels, including MCA Records and Positive Music Records, Inc.In the fall of 1991 Hal and s family returned to Dayton, Ohio, where Hal was founder and director of Jazz Labs, a jazz school for kids from middle school through high school. He also taught jazz at various schools and privately in the Southwestern Ohio area, while maintaining a rigorous regional performing schedule. During this time he attained his Masters Degree in Saxophone Performance from the University of Cincinnati College-Conservatory of Music.
From 1998 – 2004 Hal was Visiting Assistant Professor of Music and in Jazz Studies at the University of Missouri-Kansas City Conservatory of Music, where he resurrected a dormant Jazz Studies Program, working with jazz great Bobby Watson the last four of those years. During his time there, Hal became an integral part of the Kansas City jazz scene, performing and recording in a variety of venues, and serving as President of the Jazz Ambassadors, a jazz support organization in Kansas City.
Hal now resides in Dayton, Ohio, serving as Associate Professor of Music (Saxophone, Clarinet, Flute, Jazz Ensembles, Jazz History, Music Ed) and Director of Jazz Studies at Central State University in Wilberforce, OH. In addition, Hal serves as Musical Director for the Jazz Labs Dayton, teaches privately, and performs quite often both regionally and nationally. He is also Secretary for Jazz Education Connection of Ohio (JECO), a support organization for jazz performance, teaching, and learning throughout the state of Ohio.
Hal's premier CD, WADUYATHINK, was released in 1993 on Positive Music Records and was a top 25 jazz CD. The recording features straight ahead jazz music, including both original compositions and original arrangements of jazz classics and standards. Along with Hal on Soprano, Alto, and Tenor Saxophones and Flute, the CD features Dayton area artists Jeff Hufnagle on Piano, Bob Bowen on Bass, and Steve Barnes (now in Denton, TX) on Drums. Special guest artist Kenny Drew, Jr. on Piano appears courtesy of Antilles Records.
Hal maintains a high profile as a performer, traveling across the nation as well as regionally doing Broadway Shows (most recently The Producers, Little Shop of Horrors in Kansas City and Columbus, OH), various jazz performances and recordings (Kansas City Boulevard Big Band, Columbus Jazz Orchestra, Blue Wisp Jazz Club in Cincinnati, OH), and serving as clinician and adjudicator for numerous jazz festivals. Hal is much in demand for concert and club performances and recordings (Marilyn Maye and many others) both regionally and nationally.