"If you don't live it, it won't come out of your horn."

- Charlie Parker
"Just listened to your solo from last night...beautiful stuff, man. You are playing it just as I envisioned it. Really nice lines and shape."
Chris Tanner
Miami University Steel Drum Band
"It's been a privilege working with you in the past and I know that I could learn much more."
Ted Terhune
Student, Ohio State University
"Alto Saxophonist and Columbus Youth Jazz Workshop (CYJW) instructor Hal Melia played a great solo in his feature, "Blue Skies" from the Irving Berlin musical, Betsy. The CYJW is a part of JAG's Youth Jazz Program, which provides a big band experience for students in middle school and high school. Community education programs are an integral part of promoting JAG's mission to "advance the art of jazz through performance and education."
"THANKS for playing…you make me feel good about music! I appreciate all your creativeness."
Gregg Shockman
Director of Music, St. Henry Parish, Miamisburg, OH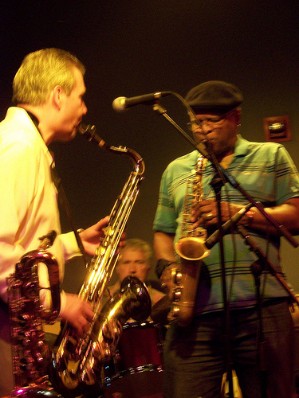 "You were stellar, and the crowd judging by e-mails, facebook and assorted blogs loved it. Thanks for your amazing talents and efforts."
J. R. Cassidy
Director, Kentucky Symphony Orchestra
"You're still playing up a storm!"
Mark Flugge
Pianist, Columbus, OH
"You and the rest of our team all pulled together in a difficult year to make the Jazz Camp a special year for all of our 99 students that attended."
Alan Schwab
Treasurer, Dayton Jazz Orchestra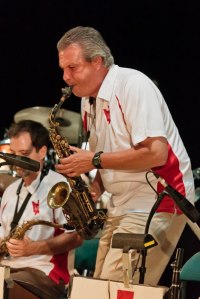 "Really enjoyed the concert Wednesday--and you were amazing! Hope the kids in Jazz Camp know how lucky they are to have you there!"
Debbie McCutcheon
Dayton Music Supporter
"For the past 20 years, it has been a great privilege and pleasure to work with Hal in a variety of musical situations. He is without a doubt, one of the finest musicians in the country. Every opportunity to play on the same stage with Hal is an honor. Any instrument, any style; he brings a level of musicianship to the stage that inspires and propels everyone to new heights. You can't go wrong with Hal. He never has a bad night!"
Mark Funke
Dayton Musician